Begin your exploration with a trip to Mr. Shusterman's website, Storyman.com. Then, use the links to information in some of our databases to find out more about him and what he's written.
The following books by Mr. Shusterman are available in the LRC. Stop by and check one out!
(The catalog links only work in school.)
Jefferson is proud to be hosting award-winning author, Neal Shusterman, on Friday, October 25, 2013. Mr. Shusterman's body of work is diverse, having not only young adult novels but also television scripts, movie scripts, and even game design to his credits. His body of fiction work includes realistic titles such as the Ansty Bonaro books like The Schwa Was Here, pure science fiction like The Dark Side of Nowhere, and dystopian works like the Everworld and Unwind series. It is the release UnSouled, the third book in Unwind that brings him to our school.
This LibGuide is designed for you to find out more about Mr. Shusterman so that you can be better prepared for his visit. He's quite an interesting guy, as well as an accomplished author, so started getting fired up to hear him speak!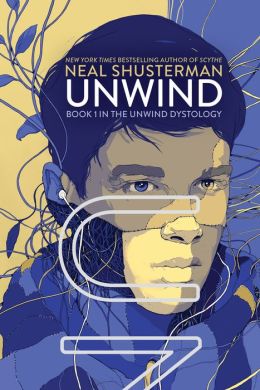 "Twenty years from now, life and death in America have changed. Genetic engineering has shattered the boundaries of science as we know it. Life expectancy has increased dramatically. Organ transplant is at an all time high. But social, medical and welfare resources are stretched to breaking point. So, the Government comes up with a solution…
It's called UNWINDING.
Parents can now "Unwind" their troubled teens - a surgical process by which all of a teen's body parts are harvested for organ donation. And, according to the law, these teens are not dead, they are just living in a "divided state".
In this world gone mad, if you're a teenager, you're a target until your 18th birthday. Yes, you'd better start running…"
This teaser from the movie website gives you the background to understand the premise behind the Unwind dystology. In the second book, UnWholly, we meet Cam, a boy who has been rewound. Here's what the publisher has to say about Book 2:
"Cam is a product of unwinding; made entirely out of the parts of other unwinds, he is a teen who does not technically exist. A futuristic Frankenstein, Cam struggles with a search for identity and meaning and wonders if a rewound being can have a soul. And when the actions of a sadistic bounty hunter cause Cam's fate to become inextricably bound with the fates of Connor, Risa, and Lev, he'll have to question humanity itself."
Sounds exciting, doesn't it? These first two books, along with the digital novella, UnStrung, set the stage for Book 3, UnSouled. Here's what we have to look forward to in the new book Mr. Shusterman will be discussing during his visit:
"Connor and Lev are on the run after the destruction of the Graveyard, the last safe haven for AWOL Unwinds. But for the first time, they're not just running away from something. This time, they're running toward answers, in the form of a woman Proactive Citizenry has tried to erase from history itself. If they can find her, and learn why the shadowy figures behind unwinding are so afraid of her, they may discover the key to bringing down unwinding forever.
Cam, the rewound boy, is plotting to take down the organization that created him. Because he knows that if he can bring Proactive Citizenry to its knees, it will show Risa how he truly feels about her. And without Risa, Cam is having trouble remembering what it feels like to be human.
With the Juvenile Authority and vindictive parts pirates hunting them, the paths of Connor, Lev, Cam, and Risa will converge explosively—and everyone will be changed."
Reserve Your Copy of UnSouled!
Don't miss out on the chance to get your own autographed copy of UnSouled! Head to the LRC to drop off the order form along with $15 (checks are ok; make payable to Jefferson Junior High School). Early buyers have their choice of the following on a first-come, first serve basis:
Have your copy of UnSouled personalized by Mr. Shusterman! This option is only available to 50 lucky students, so buy early!
Be one of a small group of students who get to meet the author before his presentation!
Get preferential seating at the assembly!
List of Mr. Shusterman's Books
Ansty Bonano
•The Schwa Was Here (2004)
• Antsy Does Time (2008)
• Ship Out of Luck (2013)
Dark Fusion
• 1 Dread Locks (2005)
• 2 Red Rider's Hood (2005)
• 3 Ducking Ugly(2006)

Darkness Creeping
• Twenty Twisted Tales (2007)
• Tales to Trouble Your Sleep (1993)
• More Tales to Trouble Your Sleep (1995)

Skinjacker Trilogy
• 1 Everlost (2006)
• 2 Everwild (2009)
• 3 Everfound (2011)

Star Shards
• 1 Scorpion Shards (1995)
• 2 Thief of Souls (1999)
• 3 Shattered Sky (2002)
The X-Files Universe
• The X-Files Young Adult Series
• 3 Bad Sign (1997) [writing as Easton Royce ]
• 10 Dark Matter (1999) [writing as Easton Royce ]
• The X-Files Young Readers Series
• 8 Voltage (1996) [writing as Easton Royce ]
Unwind
• Unwind (2007)
• UnStrung (2012) [digital novella]
• UnWholly (2012)
• UnSouled (2013)
• UnDivided (2014)

Novels
• The Shadow Club (1988)
• Dissidents (1989)
• Speeding Bullet (1991)
• What Daddy Did (1991)
• The Eyes of Kid Midas (1992)
• The Aliens Approach (1996) [writing as Easton Royce ]
• Mutiny (1996) [writing as Easton Royce ]
• The Dark Side of Nowhere (1997)
• Downsiders (1999)
• The Shadow Club Rising (2003)
• Full Tilt (2003)
• Bruiser (2010)
• Tesla's Attic (with Eric Elfman) (2014)

Picture Books
• Piggyback Ninja (1994)
Collections
• Mindquakes: Stories to Shatter Your Brain (1996)
• Mindstorms: Stories to Blow Your Mind (1996)
• Mindtwisters: Stories To Shred Your Head (1997)
• Mindbenders: Stories to Warp Your Brain (2000)